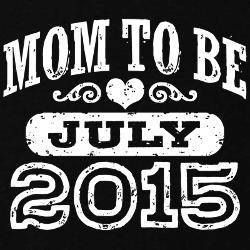 Message Me
|
Follow Me
Joined Oct. 29, 2014 7:48pm
PinkGlitter15's Pregnancy
My Due Date:
July 11, 2015
I am
postpartum
» My due date was more than 2 weeks ago
Age:
37 years old
My Journal
NO MORE BABY BUMP PICS IN DECEMBER DUE 2 stupid phone plan :-(
Posted Dec. 5, 2014 11:58pm - 285 views - 0 comments
Unfortunately I mistakingly paid for the unlimited plan from Net 10 in December that only gives you talk & text. so, I have to wait til January 1st to post bump pics weeks 9-12. Poo! Oh well, thou... [
Read more
]
FIRST ULTRA SOUND IN THE AM! 12 HOURS AWAY!!
Posted Nov. 26, 2014 12:19am - 306 views - 1 comment
SOOO EXCITEDDD! I have only had 1 other ultra sound about 4 years ago and no baby was there-we had already miscarried and didn't realize it. So, i'm scared, but can't wait to see my baby!!! Hope I get... [
Read more
]
Bronchitis During Pregnancy
Posted Nov. 20, 2014 9:42pm - 309 views - 0 comments
Been battling bronchitis for 5 days!!! No fun since nothing is safe cold medicine wise until 12 weeks along. Gonna see the doc tomorrow because i'm not getting better :-/ Prayers please for my health ... [
Read more
]
Culprit of Spotting
Posted Nov. 13, 2014 9:43pm - 371 views - 1 comment
Well, my husband wanted to "play around down there" this evening. I didn't think it was probably the best idea, but figured uggg I guess we'll give it a try. We didn't have sex, but it was e... [
Read more
]
Spotting During Week 5
Posted Nov. 12, 2014 8:13pm - 301 views - 2 comments
Well, last saturday had frequent spotting half the day. Sunday and monday, it only happened like twice. I saw the doc on tuesday, and he said nothing is wrong with me, I just got irritated from washin... [
Read more
]