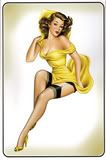 Message Me
|
Follow Me
Joined Jun. 19, 2011 8:48am
TheMrs's Pregnancy
My Due Date:
February 26, 2012
I am
postpartum
» My due date was more than 2 weeks ago
Age:
34 years old
My Milestones & Events
On
October 17, 2011
at 21 weeks 1 day pregnant
Husband/Partner Felt Baby Move for the First Time
I had been feeling "harder" bumps over the last few days but could never get my husband to feel quick enough. Finally when SG was doing it on Monday I made the Mr. put his hand on my stomach until he felt something. He felt a ever so slight bump and looked at me "Thats it? Weird!" then he laughed.
It's getting real now. :)
On
October 4, 2011
at 19 weeks 2 days pregnant
Found Out Baby's Gender
IT"S A BOY!!!!!!
On
October 4, 2011
at 19 weeks 2 days pregnant
Announced Baby's Gender to Family
the Mr. announced it via facebook while we were in the middle of the ultrasound and my who was there with us quickly spread the word to family as soon as we were leaving the hospital.
On
September 9, 2011
at 15 weeks 5 days pregnant
Felt My Baby Move for the First Time
I kept feeling weird flutters when I was 'quiet' either at my desk or in bed. I kept making my husband listen to my tummy to tell me if it sounded like normal digestion or not but then, I just new. It was S.G. moving around!
On
August 22, 2011
at 13 weeks 1 day pregnant
Heard Baby's Heartbeat for the First Time
It took a while for the doctor to get a good grip on the baby's heart beat because baby was too busy swimming around to stay still for us to listen. Then when I giggled baby got quiet for a moment and we got to hear the wonderful womp-womp at 162 BPM
On
August 14, 2011
at 12 weeks 0 days pregnant
Started Wearing Maternity Clothes
After constantly getting made fun of at work for my dresses and tops being tighter than normal by the other ladies, I finally gave in. Who knew maternity clothes were so comfy? Do I have to go back to normal ones after??
On
July 18, 2011
at 8 weeks 1 day pregnant
First Ultrasound
Our little bean is growing!
On
July 18, 2011
at 8 weeks 1 day pregnant
Announced Pregnancy to Family
We actually told my parents a few days ago but the rest of the family was told after the ultrasound. Everyone is very happy for us!
On
June 21, 2011
at 4 weeks 2 days pregnant
First Prenatal Appointment
Due to my recent MC, my doctor wanted me to come in immediately with this pregnancy. By my calculations, I think I was 4 weeks, 1 day, by her chart I was 4 weeks 5 days. We went ahead and scheduled my first ultrasound for mid-July which I am extremely excited about. :)
On
June 18, 2011
at 3 weeks 6 days pregnant
First Positive Pregnancy Test
I got a BFP 6/18/11 with my FMU. I'm over the moon!!!!!This is after me waking up trying to decide to take the test or not, I stayed in bed trying to decide if I was uncomfortable b/c I had to pee so bad or if I had dull achy cramps to announce the arrival of the witch. Finally went into the bathroom took the test out telling myself, if this isn't my month, then we will just try again next month. I took the test and within 15 seconds the 2nd line began appearing and my first words were HOLY SH**! I ran into the living room and decided to wait until the full 3 minutes were up and go back. Sure enough, that line was still there. I'm praying this baby sticks and results in a healthy pregnancy and baby. (I had a MC 7 months ago)
On
June 18, 2011
at 3 weeks 6 days pregnant
Picked a Name
We already had our names picked out for a girl or boy!!!