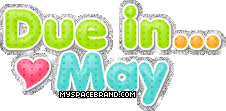 Message Me
|
Follow Me
Joined Sep. 9, 2011 10:41am
Samm0704's Pregnancy
My Due Date:
May 20, 2012
I have given birth!
Age:
36 years old
Location:
Port Hueneme, United States
About Me
I am Samantha and I have a 5yr old son who will be 6 in May and a 4yr old daughter. I also have the most amazing boyfriend ever <3 We have been together for a while now and he's in the Navy and is going to deploy right after I have our daugther. This will be his first baby <3 I had two miscarriages before my son was born and then wasn't able to get pregnant for 3 1/2 years after my daughter was born. They told me I had multiple cysts on both ovaries/ possible fibroids and my tubes were straight and it would be very hard for me to get pregnant. Well the first month we tried to get pregnant, it worked!! I am very blessed.. If you would like to know anything just ask =)

My Birth Plan
I had a c-section with my son due to not dilating and then him going into fetal distress after 10 hrs of my water being broken. Had another c-section with my daughter and wasn't given the option to due a VBAC which I was upset, but thank god I didn't do a vbac (medical reason). My son and daughter are 18 months apart. Now having a 4 1/2 yr gap between my pregnancy I want to do a VBAC. We moved to Cali in Nov and I want to try a Vbac, but was denied. So hopefully I go into labor on my own and can try to attempt a regular birth. If not I will have our baby girl May 16th 2012!!