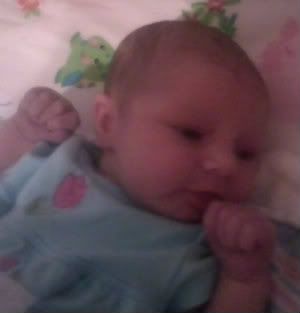 Message Me
|
Follow Me
Joined Oct. 20, 2011 3:31pm
GypsyTasya's Pregnancy
My Due Date:
July 2, 2012
I have given birth!
Age:
49 years old
Location:
near Atlanta, GA, United States
My Milestones & Events
On
June 23, 2012
at 38 weeks 5 days pregnant
Went Into Labour
3:40 am. I woke-up to urinate. There was a definite downward pressure and an odd noise. It startled me a bit. When I stood, the flood gates fell loose! My water broke. I had not had any contractions but I knew I had to go to the hospital per my Dr's previous instructions.
Alysandra was born at 6:26 pm :) <3
On
June 20, 2012
at 38 weeks 2 days pregnant
Finished the Nursery
My best friend drove down from NC to GA and helped me put together everything for Alysandra :) We had alot of fun finishing shopping and setting things up. She had to leave today and I'm totally bummed. But, everything is done and ready!!! Bless her!!!! <3
On
June 15, 2012
at 37 weeks 4 days pregnant
Packed for the Hospital/Birth Center
I just finally finished packing my hospital bag! All I need to do now is grab the stuff I'm still using and toss it in there to roll! :)
On
June 9, 2012
at 36 weeks 5 days pregnant
Baby Shower
Today was our Baby Shower, hosted by my OH's mother and sister. It was alot of fun! Unfortunately, none of my people could make it b/c they live so far away. But, they were there in spirit :) I'm really grateful that they care enough to host the shower. It's very special to me :) xoxo
On
June 9, 2012
at 36 weeks 5 days pregnant
Lost the Mucus Plug
Just before heading to the Baby Shower, I went to the bathroom and saw I'd lost my plug!
On
May 30, 2012
at 35 weeks 2 days pregnant
Prental Tests: Group B Strep Test (GBS)
Not fun - but not as awful and I expected. I get the results on June 8 at my next OB appointment.
On
May 19, 2012
at 33 weeks 5 days pregnant
Started Childbirth Classes
Today was the prepared childbirth class at the hospital. It was very interesting ... my favorite part was the foot rub and back rub though, HA!
The class was super long, from 9a-5p, but was only for today. I can now finalize our birth plan/goal to turn in at my next OB appt.
Next and final class, Breastfeeding, on Saturday the 26th.
On
May 9, 2012
at 32 weeks 2 days pregnant
Baby Dropped
Alot of increased pressure and discomfort. It feels like baby is wreaking havoc on my bladder and the need to urinate is more frequent and urgent.
On
April 7, 2012
at 27 weeks 5 days pregnant
Little-big Brother felt baby move.
We took a nap together and little-big brother's leg was resting on my belly. Alysandra gave him a couple of nudges to say hello :) He thought she was kissing his foot - too adorable :) <3
On
March 8, 2012
at 23 weeks 3 days pregnant
Hospital Maternity Center Tour
My nervousness about the hospital's rules have been alleviated. I feel much better after taking the tour.
I learned that I will have to do very little compromising in my birth plan. That's a HUGE relief.
On
February 27, 2012
at 22 weeks 0 days pregnant
Husband/Partner Felt Baby Move for the First Time
Last night around 1130pm while laying in bed, Alysandra got really active. My fiance hadn't been able to feel her move yet so we decided to see if he could feel her again. Well, he SURE felt her, lol. She was kicking his hand so hard that it did a little "bounce" on my belly - so cute. I'm still surprised that he hasn't felt her move before now.
She's kicked the dogs before while they were snuggling w/me ... around last week sometime. They were very confused to say the least, lol. Since then, they've been sniffing my belly, haha.
<3
On
January 14, 2012
at 15 weeks 5 days pregnant
Picked a Name
My DF and I finally agreed upon a name ... Allesandra. This is very significant for me as it's a derivation of my mother's name. Also, that we agreed upon it today ... it's the one year anniversary of her death :'(.
Her nickname will either be Alyssa or Lyssa. <3
On
January 13, 2012
at 15 weeks 4 days pregnant
Bought Baby's First Outfit
I went to a consingment store today as my clothes are starting to get tight around the middle. Plus, I need a winter coat that will fit me. Anyways, I saw the most adorable outfit!
Now I realize that I'm having a girl, BUT...I saw this and couldn't resist! :) Daddy, Auntie, and Grandaddy are all MAJOR Georgia Tech fans ... so, I HAD to buy it. I'll figure out a way to girl-it-up somehow! :P
On
January 10, 2012
at 15 weeks 1 day pregnant
Found Out Baby's Gender
I KNEW this baby is a girl <3 In my dream, 2 days before my birthday and the day before my BFP - my recently deceased mother handed me a baby girl wrapped in a pink blanket and told me, "take care of her" :). And, she was right on the money!
My DF's eyes got as big as his head, lol. He has 2 DS already but this is his first girl child. He's the one that saw the girly parts on the u/s and announced it! The tech laughed and confirmed it :)
One of my best friends was able to Skype-in to the appointment as it was done at a private office. It was like she was right there w/us. Amazing.
We're so happy! <3
On
January 10, 2012
at 15 weeks 1 day pregnant
Announced Baby's Gender to Family
Of course, we couldn't wait to tell everyone we're expecting a girl :) <3
On
January 5, 2012
at 14 weeks 3 days pregnant
Prental Tests: Glucose Challenge Test
I had to have the 1-hr glucose test done early due to my insulin resistance. I've been off the Metformin since week 12.
The drink wasn't as bad as I've heard. It tastes EXACTLY like an unfrozen orange, icy-pop. BUT, about 30 min. later, WOW did it make me feel like CRAP! I had a headache, shaking, heart racing, sleepiness, and mild nausea - just BLEH!
I hope I pass b/c I don't want to even think of how drinking an entire bottle of that stuff will make me feel. FX!
On
January 3, 2012
at 14 weeks 1 day pregnant
Felt My Baby Move for the First Time
I believe that I have been feeling baby move for about a week or so now. I realize it's early, but it's the only explanation I have. It is certainly not gas that I'm feeling and it's coming from the spot on my belly where I can feel the baby knot :).
On the 3rd, the sensation was like baby was flipping around, pushing on me, and a small kick! To me, I would not describe it as flutters but a definite movement. I had just drank some orange juice, which seems to be when I have the most feelings - after drinking orange juice or pineapple juice. Also, if I'm lying still and baby is moving, I can feel it.
I'm told it's uncommon for first-time mothers to feel baby moving this early - although not unheard of. :D
On
December 25, 2011
at 12 weeks 6 days pregnant
Received First Gift for Baby!
My MIL-to-be knitted a beautiful blanket :) It's such a sweet and thoughtful gift - made me cry (happy tears). She made the blanket adult-sized so we can use it too. So thoughtful.
On
December 23, 2011
at 12 weeks 4 days pregnant
Heard Baby's Heartbeat for the First Time
I had a private ultrasound done and we were able to hear the baby's heartbeat! It was fantastic! They even put the images, in live motion, on a dvd along with the heartbeat. I'm totally amazed! <3
On
December 14, 2011
at 11 weeks 2 days pregnant
Intelligender Test
This was just for fun :) It does say on the box not to use if you have PCOS and/or are taking Progesterone. Well, I meet both of those conditions. But, as I said, this was just for fun.
The result came back with BOY. We will see in about a month if the test was accurate at all :)
On
November 22, 2011
at 8 weeks 1 day pregnant
First Prenatal Appointment
This appt took like 4 hrs! I didn't like the Dr I saw either, but I have to see all the Drs in the practice so I'm remotely familiar with whoever is on-call when I go into labor.
I did get an u/s; the heartbeat is 179bpm and CRL measures 1.91cm <3. Everything looks really good - baby is measuring a little bit larger than my GA but only by a few days. All is well!
I think they took about 10 vials of blood from me, lol. I finally got the results on 11-29-11 and all is well. I got to know my blood-type (RH+, so no shot for me, yay!); progesterone is 16.9, which I fear is still low but they are saying it's fine but to keep taking the Prometrium. Also, I've LOST weight despite my constant hunger and constant "stuffing my face"! That amazes me! I figured I'd gained atleast 7-10lbs but nope ... I lost 5-7lbs! My BP was higher than normal but still in the "good" range.
My next appt is on 12-22-11, right before Christmas, and I will be 12w3d along.
On
November 11, 2011
at 6 weeks 4 days pregnant
Started Wearing Maternity Clothes
My clothes were getting tight and uncomfortable - probably from all the bloating. I went to the Motherhood Maternity store and bought some bras, tops, and jeans.
On
November 10, 2011
at 6 weeks 3 days pregnant
First Ultrasound
Everything looks GREAT - all measurements within range. We DID get to see the little flicker of the heartbeat - 117bpm which she said would increase as time went on. CRL = 0.53cm. We also saw 1 sac and 1 fetal pole! YAY!
On
October 22, 2011
at 3 weeks 5 days pregnant
Identified First Craving
I've been after Roast Beef and Cheese subs/panini (like at Panera Bread) for a few weeks but didn't know, yet, that I was pregnant. Today, I took a nap and dreamed about it! So, now I know it's a craving! :)
On
October 21, 2011
at 3 weeks 4 days pregnant
Announced Pregnancy to Family
DF told his sister today :) I told my Aunties and a few friends yesterday :)
On
October 20, 2011
at 3 weeks 3 days pregnant
First Positive Pregnancy Test
fmu with ic - faint bfp (thought i was seeing things!); smu with frer - faint bfp; confirmed with digital - bfp! i had to wait to tell my df when he got home from work :) we are so happy!!!
On
October 20, 2011
at 3 weeks 3 days pregnant
Told Husband/Partner
:)